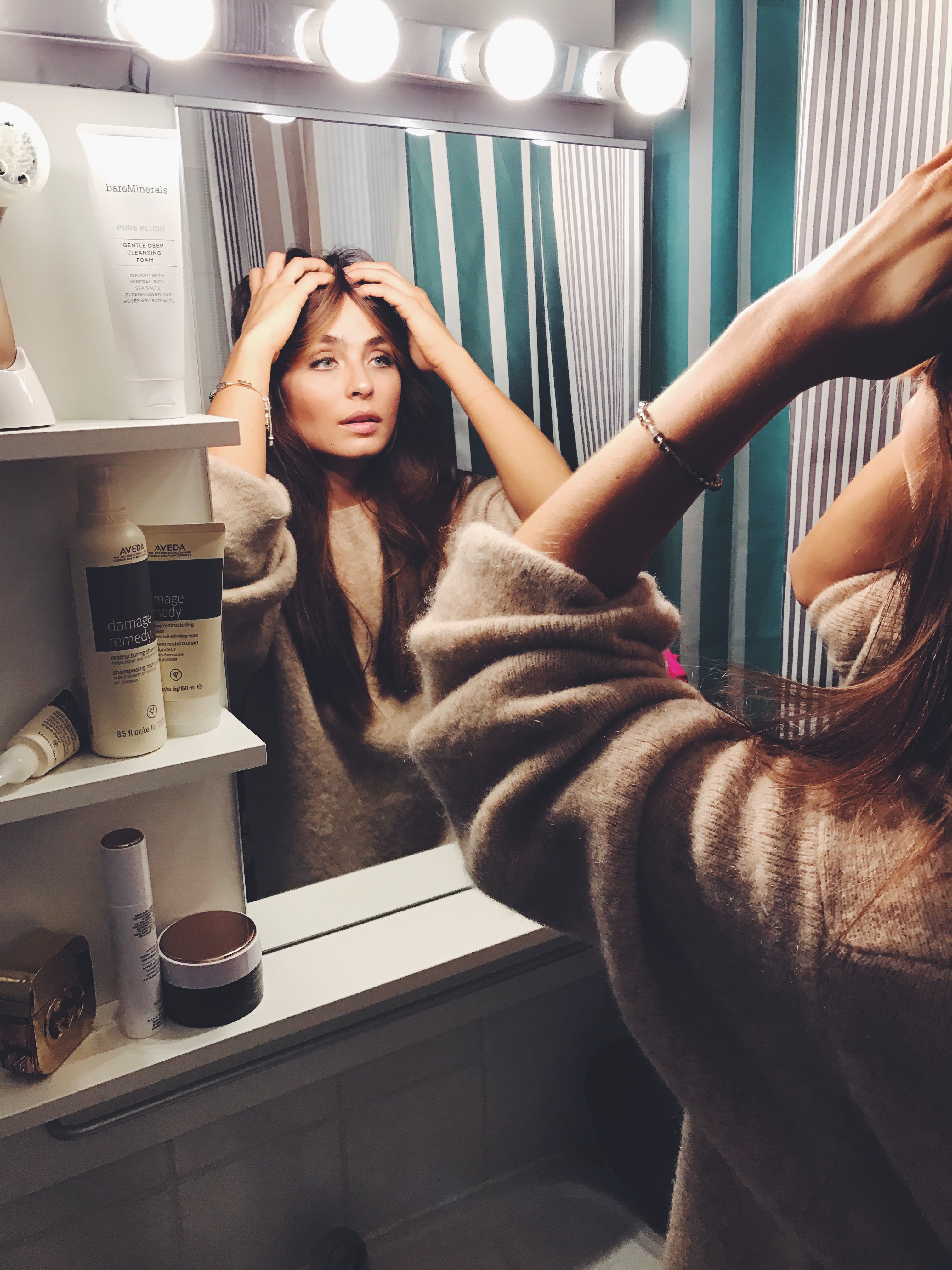 Hey there,
I get constantly asked about my beauty routine and my favourite products for hair and skin.
Starting with the hair, I just started to use the AVEDA products from the "damage remedy" series, that I've heard the best about and I am super happy with it so far. As I already wrote here in a full article about AVEDA I am not only a fan of their products but moreover supporting them for their effort to both help the environment and the people – In this particular case supporting the people at the Malakula island who are collecting the Galpinuts, which are needed to produce the essential Nangai-oil for this hair series.
Generally I try to not wash my hair too often, if possible I try only to wash it around twice a week.  
I always use a hair mask and some hair oil when drying my hair after washing or adding a dip of hair oil on my dry hair for the best shiny finish. 
For styling thick hair as mine I would suggest you always using the Damage Remedy Daily Hair Repair on wet hair to protect it from the heat and the thickening tonic on your whole hair. To style them perfectly, you can, for example, then use curler, fix it with the Air Contral Hair Spray and then dry it. To finish the look I would suggest you to use the Split End Repair to perfect the finish and make them look shiny and smooth.
To clean my face I usually first remove the makeup with face milk, using a cheap one from Nivea, and then apply some toner. In the mornings I try to always wash it with my Clarisonic brush and the bare minerals gentle deep cleansing foam before applying some cream ever now and then (at the moment suing the bare minerals smart combination emulsion and as soon as I finish it I want to test the Kiehl's ultra facial moisturizer). Once a week I also use a mask, usually the dirty detox from bare minerals as well, which smells great and gives you a beautiful rich feeling. I also know that a peeling 1-2 times a week is an essential but so far I am too lazy to pack it into my daily or weekly beauty routine :D
The most important part is to clean you face properly and take care about it every day but nevertheless a good facial once a month really perfects your complexion.
To smoothen my lips I usually use the pink eos lip balm, which tastes like sweet pineapple and makes them looks super but I actually heard it's the best to not use any lip balm at all… Will probably never work for me as I love it and probably also am kind of addicted to it but wanted to share it with you at least :D  
Hope you liked it
x
---
Hey ihr Lieben,
Da ich so oft nach meinen Lieblingsprodukten für Haut und Haare gefragt werde kommt hier ein kleiner Blogpost zu meinen Favoriten und meiner Beautyroutine.
Angefangen bei meinen Haaren, habe ich seit ein paar Wochen begonnen die Pflegeserie "damage remedy" von AVEDA zu probieren, von denen ich nur gute Dinge gehört habe und soweit auch sehr zufrieden bin. Wie ich hier schon über AVEDA geschrieben habe, bin ich nicht nur ein Fan von deren Produkten, sondern auch von der Philosophie, die respektvoll und sorgsam mit der Umwelt und den Mitarbeitern umgehen soll. Dazu gehören auch die Bewohner der Malakula Insel, die die Galipnüsse sammeln, aus denen dann wiederum das essentielle Nangai-Öl für die Serie, die ich nutze, gewonnen wird. 
Generell versuche ich meine Haare nicht zu oft zu waschen: zwei Mal die Woche ist schon ideal. Bei jeder Haarwäsche benutze ich eine Haarkur und aufs trockene Haar Haaröl, welches nochmal für den perfekten Glanz und ein seidiges Haargefühl sorgt.
Um so dicke Haare wie meine zu stylen würde ich empfehlen das Damage Remedy Daily Hair Repair als Hitzeschutz zu nutzen, Thickening Tonic auf das ganze Haar zu verteilen und dann z.B. Lockenwickler zu benutzen, das ganze mit dem Air Control Hair Spray zu fixieren und trocken zu föhnen. Zum Abschluss Split End Repair in die Spitzen geben -et voilá- fertig ist das perfekte Haar. 
Um mein Gesicht jeden Abend zu reinigen benutze ich die Gesichtsmilch von Nivea, also eine sehr günstige Variante, und trage im Anschluss das Gesichtswasser aus der gleichen Serie mithilfe eines Watteaus auf das ganze Gesicht auf. Morgens benutze ich die Clarisonic Gesichtsbürste mit dem bare minerals gentle deep cleansing foam bevor ich im Anschluss ab und an Creme auftrage( Im Moment nutze ich die bare minerals smart combination emulsion und sobald die leer ist möchte ich mal den Kiehl's ultra facial moisturizer testen).  Einmal die Woche nutze ich zusätzlich die "dirty detox" Maske von bareminerals, die nicht nur toll riecht sondern auch ein wunderschön reichhaltiges Hautbild hinterlässt. Eigentlich sollte man sich auch 1-2 Mal die Woche peelen, aber da bin ich tatsächlich einfach bisschen zu faul für und habe es bis dato noch nicht ganz in meine Routine einbauen können. Obgleich die tägliche Reinigung und Pflege das A und O sind, denke ich, dass eine monatliche Gesichtsreiningung im Kosmetikstudio zu einem idealen Hautbild führt und ich mache es super gern :-)
Zur Lippenpflege nutze ich den pinken Eos Lipbalm, der nicht nur super lecker nach süßer Ananas riecht, sondern die Lippen auch wunderschön shiny und weich aussehen lässt. ich habe mir zwar sagen lassen, dass es am besten ist garkeine Lipbalm zu nutzen, da diese die Lippen wieder austrocknet, aber ich stecke schon zu sehr im Teufelskreis und kann ohne Lipbalm nicht mehr leben ;)
Ich hoffe es hat euch gefallen,
x
In cooperation with Aveda: http://www.aveda.de