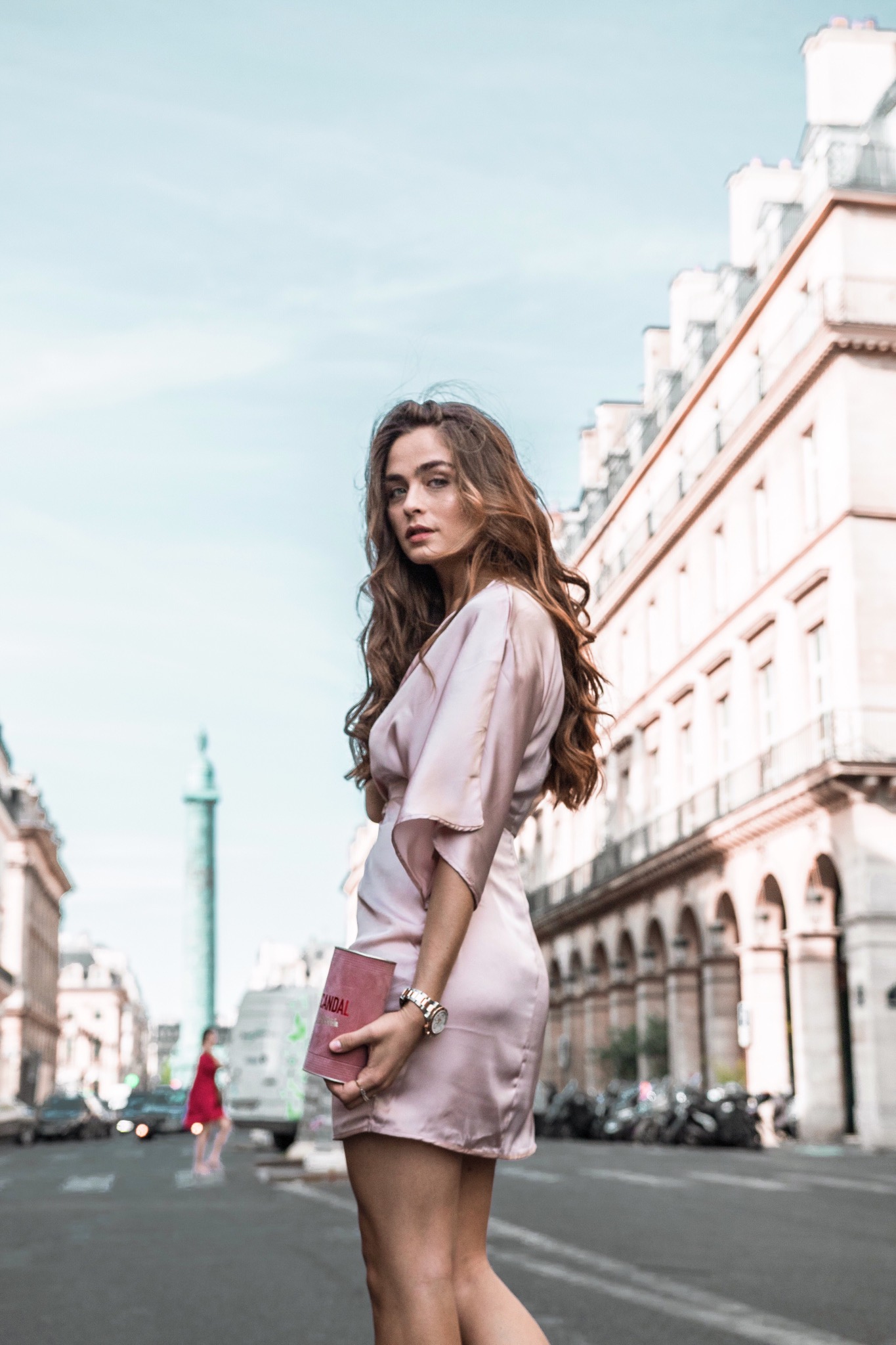 Hey there,
Last week I had the possibility to spent some days in one of my favorite cities in Europe: Paris.
I am just always happy when I come back to this romantic city, soaking in some sun(it has literally never been even cloudy in Paris during any of my visits) and enjoying the French chic: The beautiful streets, filled with cute cafés, boutiques and magnificently buildings.
The other side of Paris is vibrant, despicable and scandalous, cue: Moulin Rouge and Burlesque.
And that was exactly the vibe of Jean Paul Gaultier's fragrance launch "Be Scandal", super sexy, mysterious and especially a lot of fun.
And that's how I would describe the perfume as well: It is playful, grown-up, sexy, elegant and seductive. It has the slightly sweet scent of a younger woman but the heaviness of an inner, mysterious goddess. The flacon itself looks super elegant and luxurious, slightly playful with the rose color and seductive with the bottle top formed in woman's legs. Especially the material of the bottle is super valuable and luxurious. I personally have mostly been wearing those heavier, sweeter fragrances and really adore this new parfum. 
Thanks again for this awesome trip and lovely night,
Loving my new scent,
x
---
Hey ihr Lieben,
Letzte Woche hatte ich die Freude ein paar Tage in einer meiner Lieblingsstädte in Europa verbringen zu können: Paris.
Ich freu' mich immer wieder in dieser wunderschönen Stadt zu sein, Sonne zu tanken (ja tatsächlich hatte ich bei all meinen Besuchen bisher nur gutes Wetter) und den französischen Chic zu genießen: Die weitläufigen Straßen, die kleinen süßen Cafés und die pompösen Gebäude. 
Die zweite Seite Paris' ist für mich die pulsierende, skandalöse und verruchte, Stichwort Moulin Rouge und Burlesque. 
Und das war genau der Vibe auf dem Parfumlaunch von Jean Paul Gaultier's "Be Scandal". Mysteriös, super sexy und vor allem super unterhaltsam.
Und so würde ich auch das Parfum beschreiben, als eine tolle Mischung aus einem süßlichen, etwas jüngeren Touch und einer schwereren, eleganten und fast verführerischen Seite. Die meisten meiner Parfums sind eher diese schweren, intensiven Düfte und deshalb liebe ich diesen Neuzugang sehr!! Auch die Flasche unterstreicht dieses Zusammenspiel: Die Flasche sieht sehr elegant und luxuriös aus, vor allem auch durch das schwere Material, und der Flacondeckel, silberne, sexy Frauenbeine, unterbricht das ganz und gibt dem schicken Flacon einen verruchten Twist.
Vielen lieben Dank für den tollen Trip und die großartige Nacht,
Ich bin verliebt in meinen neuen Duft,
x
Thanks for those lovely pictures, Matthieu!
In cooperation with Jean Paul Gaultier