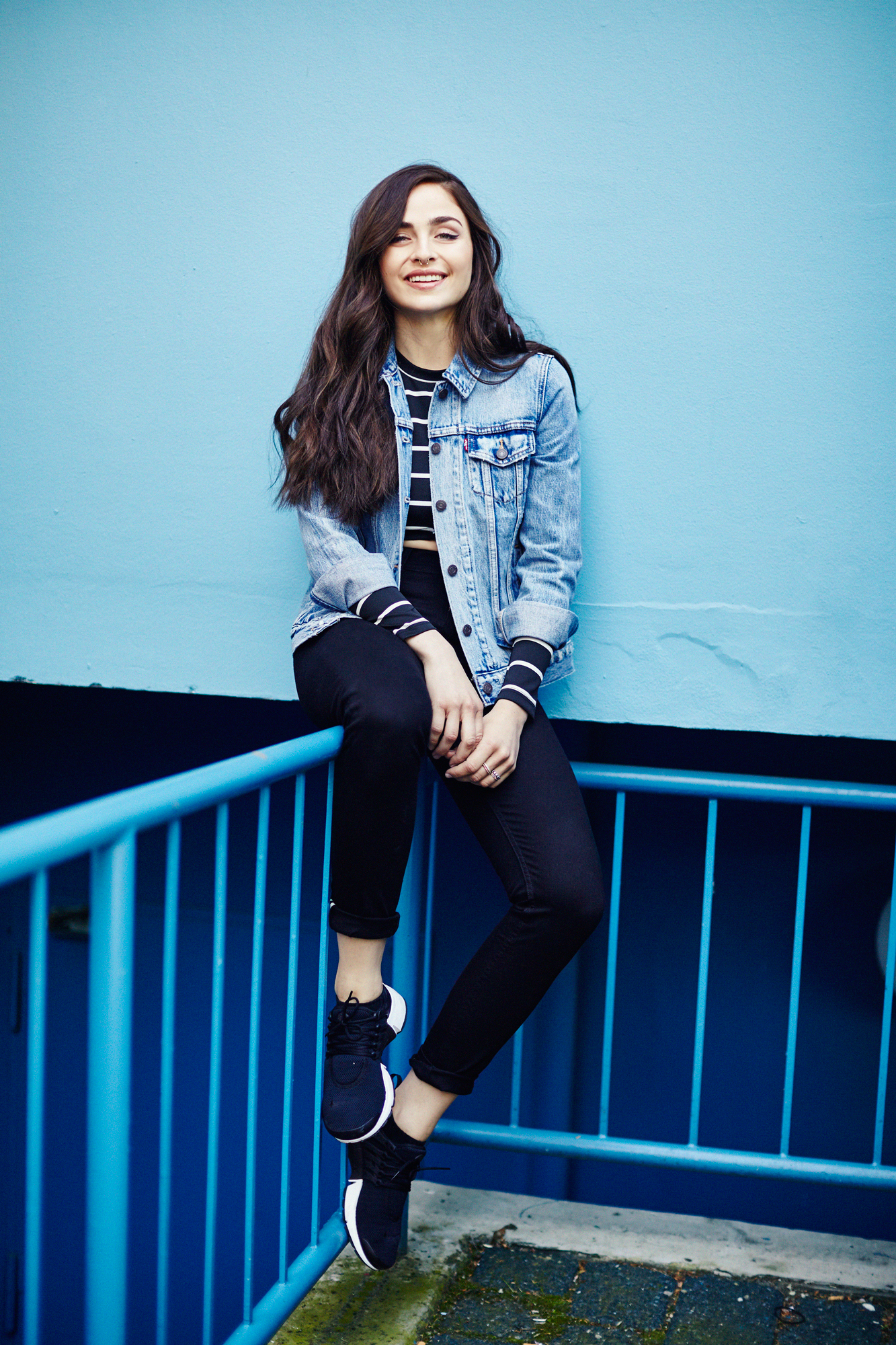 Hey beautiful,
Last week I went to Berlin to have a look at the latest Nike shoe release. The Nike Air Presto, actually released in 2000 and known for its extrem comfortable, sock-immitating design and its colour- and playful campaign, gets relaunched 16 years later and I had the pleasure to shoot with it on the beautiful streets of sunny Berlin.
I was not only really lucky with my ride(the train was on time both ways-whoop) and the beautiful spring weather but moreover had a lovely and fun team I worked with to produce some nice new shots. Thank you, Nike, for bringing me together with you and eyecandyberlin, it was awesome!
For the styling, I love to combine it in a sporty and easy way as I think it goes best with the shoe. To my mind, especially when combined with some jeans or wide-fit trousers with one of my beloved bomber or leather jackets the sporty look is perfectly underlined. The Nike Air Presto comes in black and the new edition, the Nike Air Ultra Flyknit, in white for the shooting!
---

Hey ihr Lieben,
Letzte Woche bin ich nach Berlin gefahren um einen Blick auf den neusten Nike Schuh Release zu werfen. Der Nike Air Presto, der erstmalig in 2000 auf den Markt kam und besonders für sein super komfortables, Socken-immitierendes Design bekannt war, sowie für die sehr farbenfrohe und verspielte Kampagne, wird nun, 16 Jahre später, wieder auf den Markt gebracht.
An dem Tag war ich nicht nur ein Glückspilz, da meine Züge endlich mal ihren Zeitplan eingehalten haben(für einen Zug-durch-den-Job-Vielnutzer ein wahrer Glücksm
oment ;) und wir fantastisch sonniges Wetter in Berlin hatten, sondern ich darüber hinaus mit einem extrem coolen und lustigen Team schotten konnte. An diesem Punkt nochmal ein großes Dankeschön an Nike für die tolle Zusammenarbeit mit euch und eyecandyberlin, es war mir ein Fest!
Bezüglich des Stylings für den neuen Nike Sneaker habe ich mich für einen  lässigen und sportlichen Look entschieden, da ich denke dass dies am besten für den Schuh funktioniert. Am Besten gestylt mit einer langen Jeans oder einer weiter sitzenden lässigen Hose und dazu entweder eine coole Bomberjacke und eine zeitlose Lederjacke (gern eine simple ohne viel Schnickschnack, oder sogar im Oversizedlook) kombiniert, wird der coole Style des neuen Modells am besten unterstrichen. Hier habe ich den Nike Air Presto in schwarz und die neue Version, den Nike Air Presto Ultra Flyknit in weiß gestylt. Das Modell in weiß (Nike Air Presto Ultra Flyknit) kommt sogar mit Sockenkragen. 
Wie gefällt euch der Look?