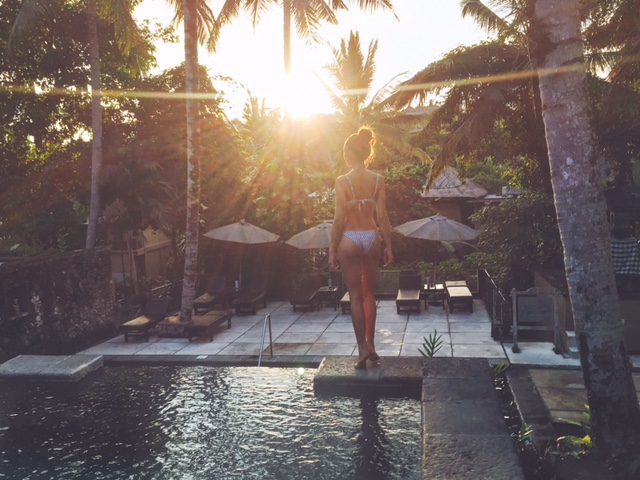 Hey beautiful
I am finally active on the blog again after taking some time off during my vacation to Bali with Flo a few weeks ago. 
Although Asia became such a famous area for travelling this Bali trip was our both's first vacation to Asia and I can anticipate that we totally loved it.

We started out vacation in Uluwatu, a cute surfer's area in the south of Bali with lots of beautiful beaches. Obviously it was really cute but I am not too crazy about it and don't really would recommend going there, or at least not putting it on the to-do-list, if you're not surfing. It has plenty of lovely beaches like dreamland beach, bingin beach or Padang Padang beach and spots like blue point beach which are great to surf at. But as I was more impressed by, for example, the beaches and water around the Gili islands and besides them think that other areas are a little bit more fun.
Nevertheless if you're going to Uluwatu anyways, don't miss out stopping at nalu bowls for amazing smoothie bowls before watching the surfers and having a sundowner sip at the Single Fin's beach bar, which is located right next to nalu and right above blue point beach. I've also got "el Kabron" recommended really often, especially for an early dinner and sundowner, so that's probably also a to-do there :-)
We just randomly drove by cab to Uluwatu and searched for a hotel to stay there 2-3 nights we and then booked our shuttle and boat trip to Gili air via www.auslandssemester-bali.de, which was totally easy to book and by far the cheapest option I found. The shuttle was quite comfy with air con and the boat a big, fancy one with TVs and air con as well ;-)

On Gili Air we stayed at Kaluku, a super cute and clean bungalow complex, which I found via booking.com a day earlier and we extended our stay there even one more night, so stayed 4 days in total, as we liked it so much :-)
On Gili Air definitely try out mowies. The, by far, yummiest place ever and lovely for sunsets as well. I live trying out different stuff but when something is so good and has such great choices I wouldn't take the risk getting disappointed anywhere else :D also, especially for breakfast, I can totally recommend you Gili Bliss, located directly next to the harbour. To get along in the island just simply rent a bike or go for an early run to get an idea of the island. Running along the coast is around 5.5 Km, so a pretty nice run, but take the early serious as it get's really hot and exhausting quickly ;-) definitely try out Harmony spa's massages, they are just insanely good!

Then we continued to Gili Trawangan, where I would definitely not go to again. Luckily, we only stayed 1.5 days and had a great hotel called "le pirate" with a really good restaurant and therefore just spent those 1.5 days relaxing, tanning and biking around the island :-) the island is just way too packed and loud, filled with shops and bars… At least the north of the island, where our hotel was located, is quite relaxed and quite so not too bad to stay at 1-2 days.

Next we drove back to Bali and stayed 3 nights in Ubud at the Wapa Di Ume, an awesome resort with 2 restaurants and 2 pool areas, a gym and also yoga classes. But being honest there are plenty of lovely nice resorts if you want to treat yourself a little bit, it is just hard to decide between them but we've been totally happy with our choice so far :-) 
In Ubud we went to a traditional Balinese dance the first night, which was quite interesting but 2 hours where just wayyy to long and we all ended up being extremely bored, so I can't really suggest you going there. Followed by the most terrible and disgusting dinner at "dirty duck dinner", which I actually got suggested 3-4 times by followers (…), I have to admit that this night was not too successful but that just happens and at least gives me the opportunity to tell others to do better :D
Culinary I can totally suggest you going to sari organics, especially for a sundown dinner, overlooking the rice fields; the little elephant, I unfortunately didn't make it to but heard the best things; the warung biahbiah and moksa. Actually there are just too many good food places in and around Ubud for only 2-3 days but I hope if around you can make your way at least to some of them.
In Ubud we also went to stroll around the beautiful ricefields but you can also visit the monkey forest, the elephant park or drive to one of the plenty waterfalls on Bali. To get along we mostly used uber which always takes quite long to arrive but at least is extremely cheap(only around 1/3 of the normal cab price).
Afterwards we continued to Canggu, which is around a 1.5 drive from Ubud and stayed there for our last week. We first stayed in the beautiful mango villa from Jungleroom and then moved to a second place. Jungleroom is sooo lovely, people are great, breakfast is awesome(yes, breakfast is served in most of the airbnbs) and it just has a great, nature-related concept. I totally adored this place and would definitely come back.
For our last night we moved to another great apartment, the desa santhi, which also covers around 8 guests I think, has a lovely maid, super delicious breakfast, THE most beautiful interior and is located extremely central.
To get along in Canggu and f.ex. Driver over to Seminyak I would recommend renting a motor bike, which is around 3€ per day :-)
In this area you would probably need at least a month to try all nice places but I can totally suggest you going for breakfast to Cafe Organic, which was the best food I had in a long time (BEST FRNECH TOAST EVER!<3), Nalu bowls or crate cafe and for dinner definitely try ji(insane), shady shake and la Laguna, the most beautiful location. 
I hope that you enjoyed my little summary and can use some of the tips for your next trip there!
To my mind, Bali is an amazing place to visit and has lots of different lovely areas to get to know, delicious restaurants to try and plenty of great places to visit. Last but not least the people are extremly friendly, open and warmhearted which was also one of the main reason we enjoyed the time that much.
xx