Hello beautiful,
As I went to America last month for the first time I wanted to share with you the city I liked most: San Francisco. It is such a nice small, but still really multifaceted place I really enjoyed.
I stay at Union Square which is the city center, crowded with people, banks and a lot of shops. It is mainly high, glass buildings and has the exciting metropolitan vibe. On my first day I went for lunch to the Cheesecake Factory over macy's and had this amazing view over the whole Square plus the best (unhealthy) cake I probably ever had in my life: Reese's Peanutbutter Cheesecake (which actually is far away from anything normal as a cheesecake haha).
Just a few walking minutes from there I discovered the oldest Chinatown in North America with all its great Asian Stores and buildings. I probably liked it even more because getting there means getting almost on top of the hill and therefore going through Chinatown felt really relaxing for me :-)
The area I liked the most was definitely Mission District, a two-faced part of San Francisco which was pretty dangerous and criminal and is still quite poor and has a very mixed population but is growing up with a lot of new cafés, restaurants and clothing shops. The colours are vivid and the streets lively. There are graffity and painting everywhere and a greaaaat variety of people and their heritages which i just love.
Especially Balmy Street is drop-dead gorgeous with its latin-influenced wall paintings in all those bright shining colours.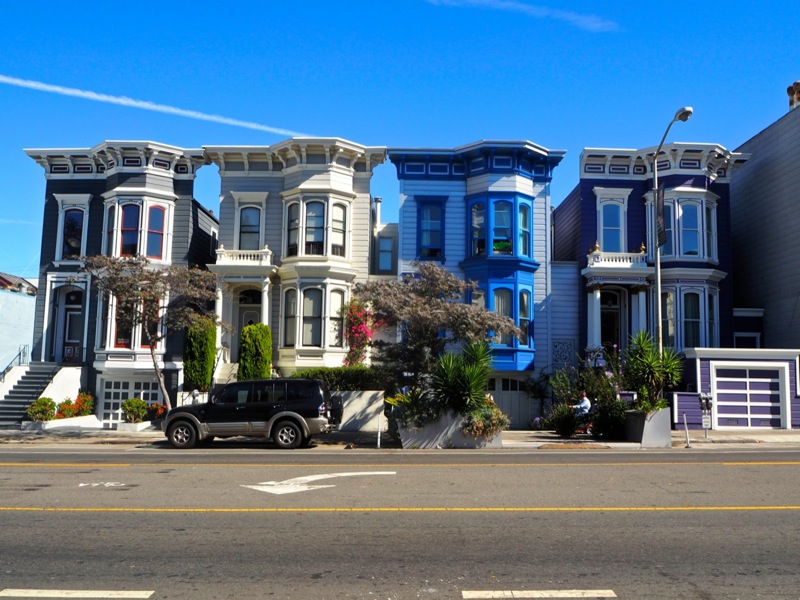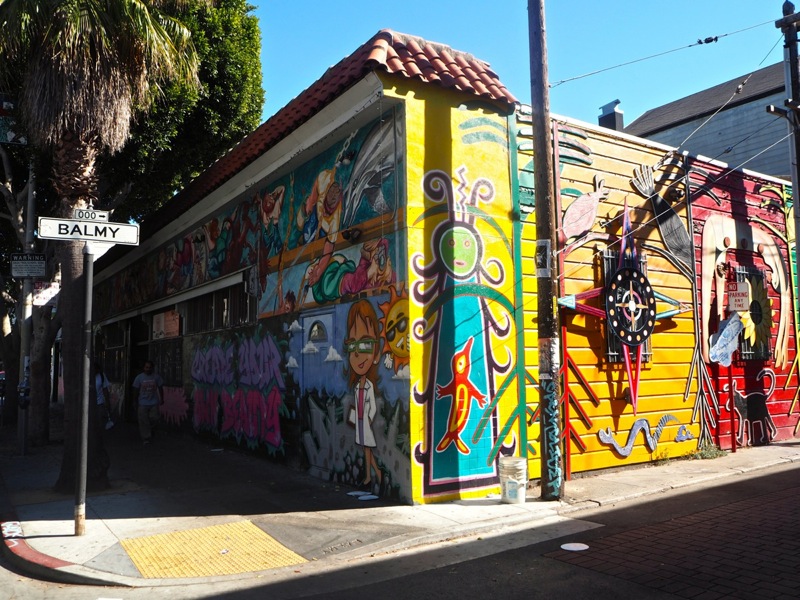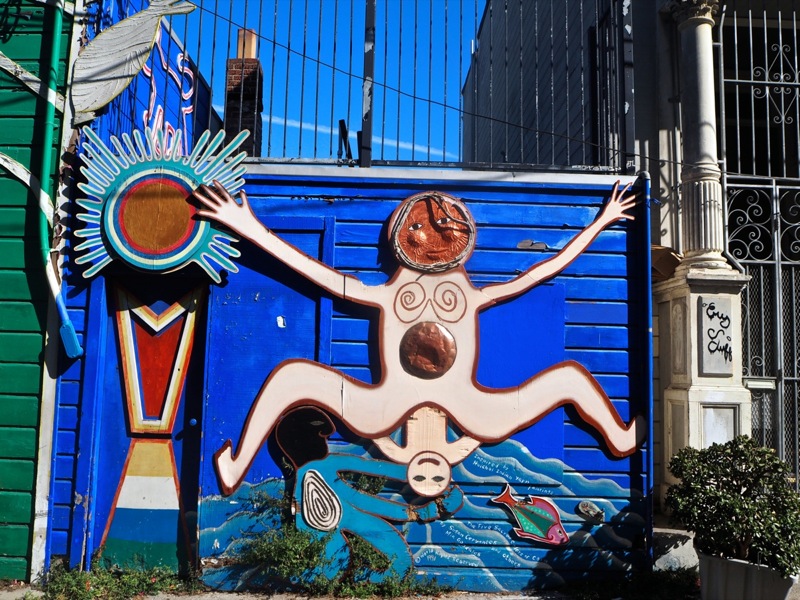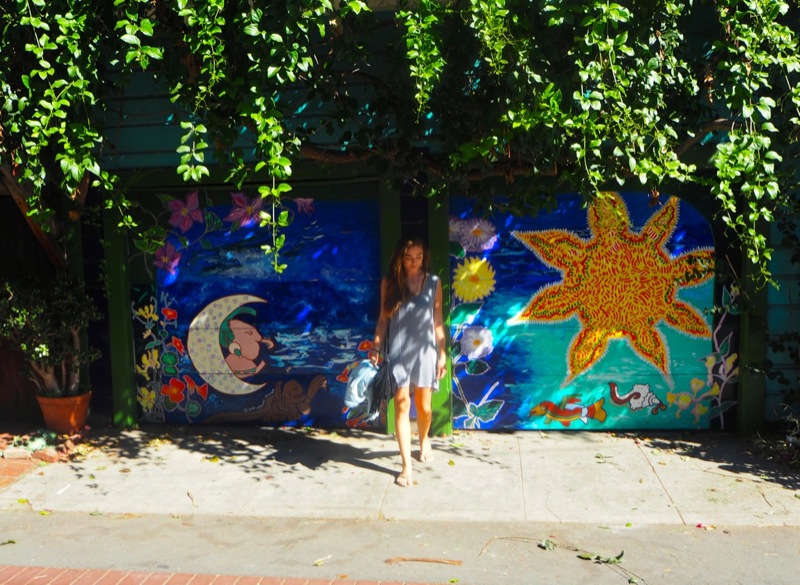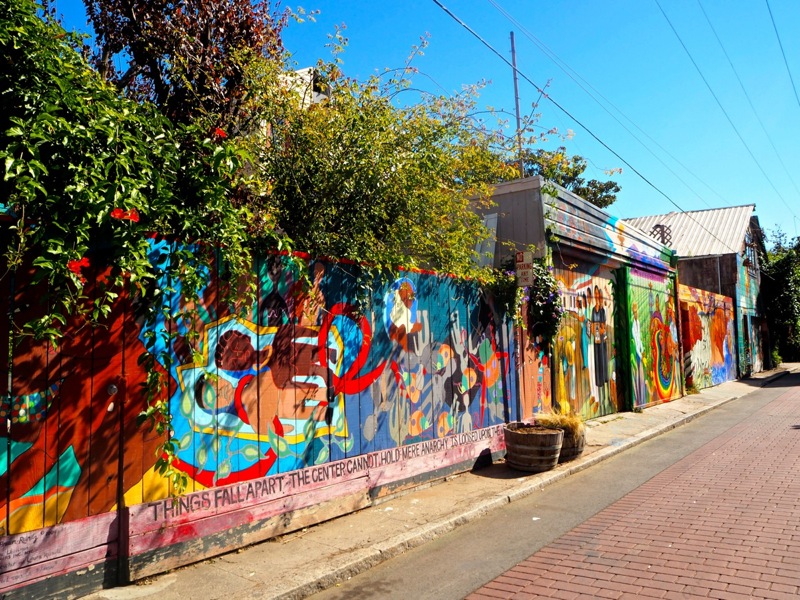 My favourite restaurant there is Gracias Madre, a mexican influenced kitchen with a beautiful colourful interior and really friendly service. The food was delicious and besides the whole atmosphere was definitely worth going there again.
I am sure there are a lot of amazing food places around there I didn't have the time to try out because of the whole district becoming more and more popular and trendy. Consequently a lot of new ideas are raising there, I can't wait for the next time to get there (and see the Mission's rise).
On my last day I went for a picknick close to the Golden Gate bridge which was the perfect start of a Sunday: Foodcars, lots of people from young to old, a great variety of cuisines, a stunning view and some chill-out music from a DJ. I really enjoyed sitting lazy in the sun, trying some of their stuff and getting some tan. Afterwards we decided to rent a bike and cruise over the Golden Gate bridge to Sausalito where you have the perfect view of SF's skyline, where I got the biggest ice cream I ever had (and was so proud I seriously managed to finish it) before my friend decided to not the vary back, as we actually planned to, but cruise up the hills again and ride back on our bikes (which was hard enough without having eaten this giant but I, SOMEHOW, managed to get back to the bike shop.
On the way back to the hotel we then passed Fisherman's wraft with its famous pear 39 and all the cute sea lions laying lazy in the sun while the whole area was crowded of people celebrating the fleet week and the marine's flight show at the same time :-) I also recommend the art galleries in this part of SF a lot