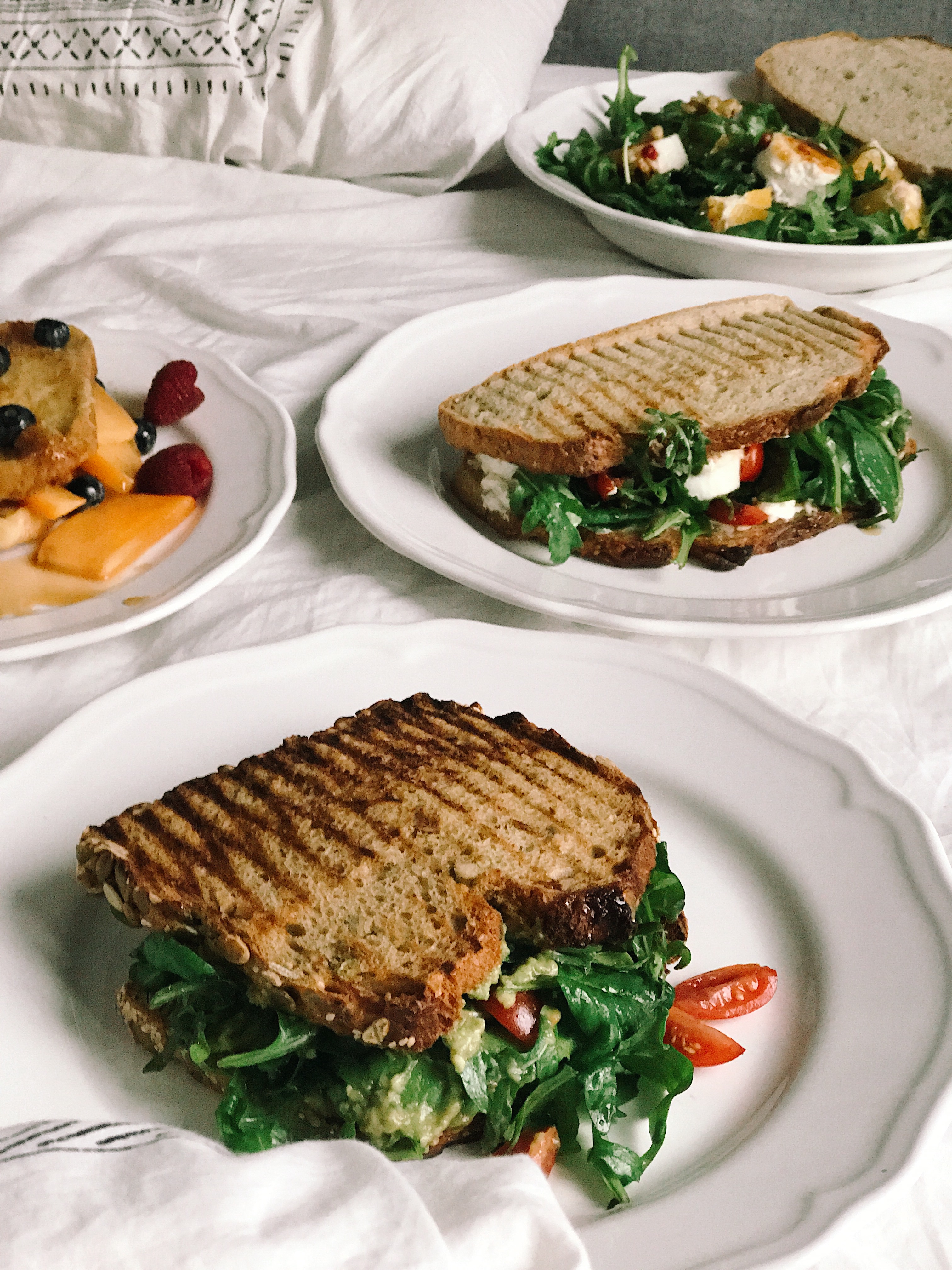 To all my foodies out there,
I got something for you…
The past week I teamed up with Deliveroo and made my home a various restaurant, choosing each day other mouthwatering dishes, depending on my mood and the whole vibe.
So I created my very own food playlist - because who know's these rainy days when the world seems to be far away and the only thing you want to do is snuggle up and eat some delicious, warm goodies? Or those hangover days, when all you wanna do is get yourself together but all your body craves for is food? Oooor those cozy days together with your friends, because sometimes all you need is good company and good food? And that's what I mean when I talk about a playlist - a food guideline for exactly those different states your days can lead you in, cause besides good music or movies the most important thing to make us feel good is definitely food. Who's with me?
So here we go with last week's favorite dishes:
When you're having a day off, sleep in and want to spend the day in bed, watching some good movies and snuggle up the probably best thing in the world is having a proper breakfast - and that is a very difficult thing for me because, as most of you might know, I am a little breakfast chef and love to create special and various breakis… So I have to admit I am especially picky on that one. 
But I have to admit that I found an awesome café on Deliveroo that not only made a delicious healthy, sweet salad(yes I am weird but I love to have salads with my breakfasts and I especially love when they have sweet twist like this goat-cheese-honey-orange-rucola salad), delicious soft French toasts with caramel and berries but also awesome savory sandwiches with avocado or honey-cheese.
And for those cozy afternoons when you want to meet with friends but it's grey and rainy outside, so you rather invite them over and have a cozy evening with good company, a glas of wine and some good laughters. And of course the worlds-best truffle pasta that I ordered on Deliveroo.
We ordered three different homemade pastas, with truffle, goat cheese and champignons and they all turned out AMAZING. I am not exaggerating when I say it was one of the yummiest pasta variation - and you all also know that I am a true pasta lover and pro. As a little starter we ordered an antipasti variation, that came with some bread and parmesan and was very good as well. I love to have different stuff to share, that always makes it more sociable :D
Other days, I just want to be home with my boyfriend and have a little romantic time with him alone. Often I cook as well but then sometimes it's just perfect to decide for some good delivery food and not have to work on anything, as if you would go out for a romantic dinner, just a bit more comfortable… :)
And as we are both 99% vegetarian we love to go for Vietnamese. They don't only have awesome, healthy food in general but they always have a huge selections for vegetarians or even vegans, so that works perfectly. 
And then we all know them… THE HANGOVER DAYS…
Luckily doesn't happen too often but if it happens it's usually on a Sunday, it's usually around midday and it's usually painful.. haha.
And as you are too week, lazy and empty-fridged tp even think of cooking or -worse- going out, you take a warm shower, snuggle into a warm jumper and blanket, make yourself a tea and bravely wait for your Deliveroohero to rescue you from your miserium. 
I usually go for veggie burgers, pizza or, like this time, falafel and some much needed ice-cream, but I think you all feel me here for sure… :)
X