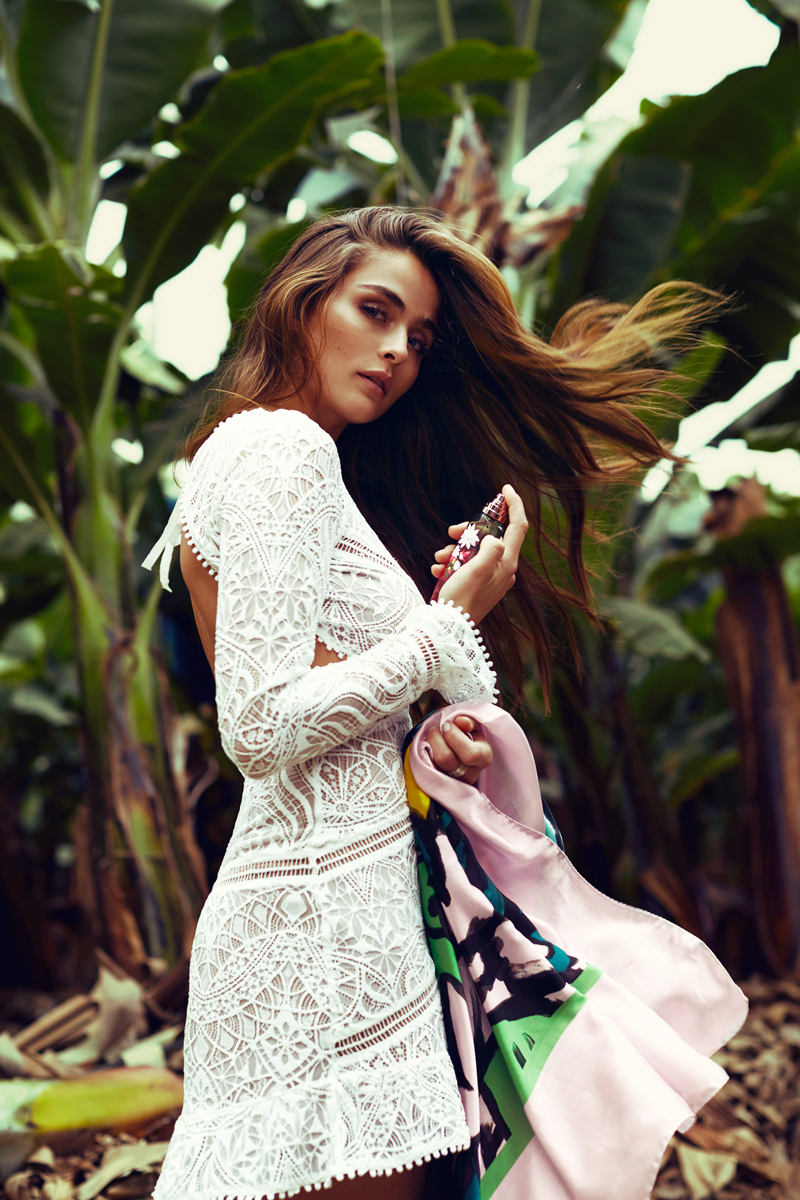 Teneriffa with Escada Fiesta Carioca
Hey there,
Time flies and my trip to Teneriffa with Escada to celebrate 25 years of limited summer editions is already a month ago. I, not only had the pleasure to spent some nice days in the sun, escaping the gloomy Hamburg weather, but also was able to travel with two friends, Farina and Aylin, which made the trip perfect.
We started our trip with a nice lunch in our hotel before having a fragrance workshop later on, not only getting some detailed information of their new summer edition Fiesta Carioca, but also going back to a 25 years history of summer limited editions. They are all super playful and fresh, quite sweet and then differ each to the other, which is, considering there are 25 editions already, really impressive. Fiesta Carioca is inspired by the brazlian Cariocas and their awesome lust for life, implemented with a mix of passionfruit and a waft of raspberry and orange.
So far, the current parfum and the very first one are my two favorites 🙂
The last two days we spent together with Eyecandy, doing an incredible road trip and capturing the most beautiful spots for you.Attached you'll find my favorites. Thank you for these lovely shots, girls!
Last but not least you can win a huge package for you next summer trip filled with everything you could ever ask for on vacation such as a luggage, a cute ice cream floatie, the beautiful ESCADA cloth I've also been wearing during our road trip , a sleeping mask, a lovely round beach towel, and - of course - the current fragrance summer edition Escada Fiesta Carioca, plus a lot of extra goodies as well… 🙂
To participate simply follow both me and Esacda on Instagram and tag your two best friends under my IG-Post of this blog entry and tell me where you would travel to with them and your goodies.
Good luck
xx
---
Hey ihr Lieben,
Die Zeit rast und schon ist ein Monat vergangen, seit ich aus Teneriffa zurück bin, wo ich einige Tage dem grauen Hamburger Wetter entkommen konnte, um den 25. Geburtstag der limitierten Escada Parfum Summer Editionen zu feiern. Und als wäre das nicht großartig genug, durfte ich die Zeit mit meinen Mädels Aylin und Farina verbringen.
Gestartet haben wir den Trip mit einem tollen Lunch - mit der deutschen Truppe - mit Blick auf's Meer in unserem Hotel, wo wir später einen tollen Parfumworkshop hatten. Wir konnten nicht nur die neue Version Fiesta Carioca testen und genaueres über die Zusammensetzung erfahren, sondern wir hatten auch einen kleinen Exkurs zur Entstehung und Geschichte der limitierten Escada Summer Editionen. Alle Parfums sind sehr frisch, sommerlich, verspielt und fruchtig und trotzdessen - und das bei 25 bestehenden Sommereditionen - jede einzelne unique. Fiesta Carioca ist inspiriert von den brasilianischen Caroicas und derer einzigartigen Lebensfreude, umgesetzt in einem süßlich-frischen Duft mit einem Mix aus Passionsfrucht und einer Note und Himbeere und Orange. Meine Favoriten sind bislang tatsächlich die momentane Version und die allererste 🙂
Die letzten zwei Tage unseres Teneriffatrips sind wir dann mit den zwei Mädels von Eyecandy über die Insel gecruised, sind auf unserem Roadtrip an den schönsten Plätzen angehalten, um ein paar tolle Fotos zu schiessen, die ich euch hier zeige. Danke ihr Lieben für diese tollen Erinnerungen!
Zu guter Letzt gibt es auch für euch etwas Tolles zu gewinnen: Ein riesen Paket voller toller Utensilien für eure nächste Reise wie z.B. einen Koffer, einem süßen Eiscremefloatie, das wunderschöne florale Tuch von Escada, welches ich auch beim Shoot getragen habe , einer Schlafmaske, einem coolen runden Strandtuch, sowie -natürlich- der neuen Sommeredition Fiesta Carioca von Escada und, und, und… 🙂
Um mitzumachen folgt lediglich Escada und mir auf Instagram und kommentiert unter dem zugehörigen IG-Post, wohin ihr am liebsten als nächsten reisen würdet, indem ihr eure zwei besten Freunde mitmarkiert.
Viel Glück,
xx